I took another trip up to Jobs Pond today to see how the foliage was coming along. The mountains around the pond were coming along well.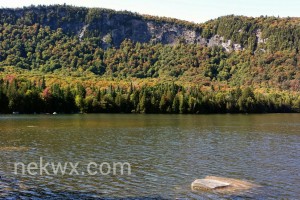 After that I decided to go over through Newark and check on Bald Hill Pond. I found nice color there for this early in the season. Here's a panoramic photo I took while there.
I also mounted the GoPro to my dash and made a time lapse video of the ride from Island Pond to Jobs Pond and then on to Bald Hill Pond, and then back to Island Pond. As you can see in the video, there is still a lot of green in the lower elevations of the NEK. As you go up there is more color, especially on the mountains around the ponds.